WWII D-Day Playset #3 War From Above 54mm Plastic Toy Soldiers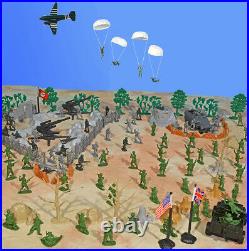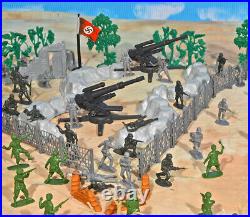 WWII D-Day Playset #3 - War From Above. 161 pieces - 54mm plastic toy soldiers and accessories. (contents may vary slightly depending on availability). Paratroops Drop Behind the Lines!
One of the keys to the success of the D-Day Landings was the widespread use of Allied paratroops and glider-borne Infantry. These airborne warriors landed at night, well ahead of the invasion, jumping out of the their C-47 "Dakota" airplanes or landing in their wooden glider craft into the German rear areas. These elite troopers were tasked with seizing important road junctions, eliminating hidden German gun batteries which could shell the beaches from beyond the reach of the Allied naval units and blocking routes to be used by Nazi units coming up to counter-attack the invading armies.
Airborne warriors silence a gun battery in the tradition of Lt. Winters from "Band of Brothers", eliminate a German strong point and "hold until relieved" by the units fighting their way off the beaches? This is one of three different, but inter-connected, Toy Soldier Company D-Day Playsets.
Each set can stand on its own, but when combined with the other two sets from the same range the resulting collection creates a broad canvas upon which you and your kids can rewrite history! Please note that the contents of each set are almost entirely different from the others in the range. Contents (unpainted 54mm scale figures and accessories): The Allies: 48 Airfix American Paratroops 4 Marx Paratroops with 4 parachutes. "Dakota" C-47 Transport Plane with authentic D-Day Markings 1 Marx U.
Jeep The Germans: 24 Airfix German Infantry and Elite Paratroops 15 Matchbox German Infantry 2 Marx German 88mm Guns 1 CTS German Halftrack with 2 mounted machine guns Accessories: 1 Marx Concrete Pillbox 1 Marx Ruined House 6 Sections Marx Barbed Wire Fencing 12 BMC Sandbag Walls 2 M. Rocky Defense Positions 4 Marx Tree Lines 2 CTS Trees 20 Marx Dead Trees, Stumps and Rocks 1 CTS German Flag 1 Timpo American Flag 3 Timpo Flagpoles and Bases. The Toy Soldier Company, founded in 1985, has the world's most extensive stock of current and vintage plastic and metal toy soldiers and accessories by manufacturers including Britains Deetail, Timpo, Atlantic, Dulcop, Conte, Marx originals and recasts, Playmobil and others. Please message us if you have any concerns.
We have a strict policy, in accordance with U. The item "WWII D-Day Playset #3 War From Above 54mm Plastic Toy Soldiers" is in sale since Wednesday, May 27, 2020. This item is in the category "Toys & Hobbies\Toy Soldiers\1970-Now". The seller is "toysoldierco" and is located in Jersey City, New Jersey.
This item can be shipped worldwide.
Gender: Boys & Girls
Manufacturer: Airfix clones, Marx, Mattchbox
Country/Region of Manufacture: United States
Material: Unpainted Plastic
Size: 2-2.5 inches tall
Scale: 54mm
Period: WWII D-Day
Soldier Type: WWII Infantry and Accessories
Type: Soldier
Year: 2017
MPN: TSCPCS03-112o
Brand: Airfix clones, Marx, Mattchbox
Recommended Age Range: 7 years and up