WWII D-Day Playset #1 Hit the Beach 54mm Plastic Toy Soldiers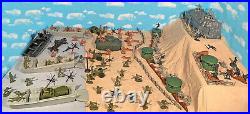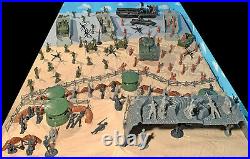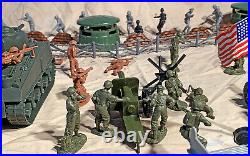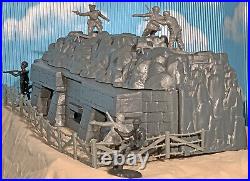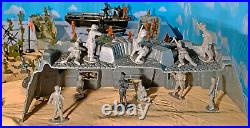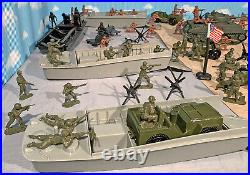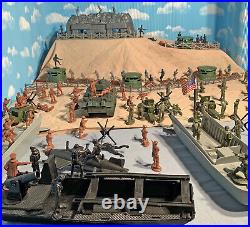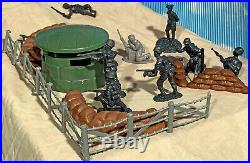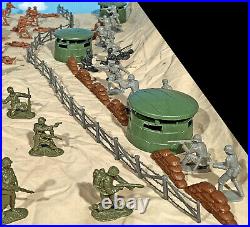 WWII D-Day Playset #1 - Hit the Beach. 189 pieces - 54mm plastic toy soldiers and accessories.
(contents may vary slightly depending on availability). D-Day Tri-Series Playset #1 - Hit the Beach! The greatest sea-borne invasion in history took place on June 6, 1944 - D-Day. After fighting Hitler's Nazi regime for 5 years, the Allies, including the U. Great Britain, Canada, the Free French and eight other nations, finally took the war to his doorstep by landing at dawn on the Normandy Coast of France.
The landings were met at the waterline by a series of prepared defenses known as The Atlantic Wall. " These included large concrete bunkers, small strong points known as "pillboxes, " barbed wire fences, steel girders bent into X shapes known as "Czech Hedgehogs to wreck allied landing craft, as well as sandbagged entrenchments. Backing up the defenses were units of German infantry, equipped with heavy machine guns and mortars, sighted to cover the beaches with overlapping fields of fire. The Allied troops approached the beaches in flimsy wooden landing craft, known as Higgins Boats.
They were accompanied by trained frogmen who came along to defuse bombs placed to destroy the ships as they approached the water line. The Normandy Beach landings were one of the War's most hard fought victories, with both sides knowing that a win for the Allies would mean doom for the Nazi overlords of Europe.
Can your American and British troops fight their way up the beach and hold their positions to make way for the rest of the Allied army, or will the Nazis push them back into the sea? This is one of three different, but inter-connected, Toy Soldier Company D-Day Playsets. Each set can stand on its own, but when combined with the other two sets from the same range the resulting collection creates a broad canvas upon which you and your kids can rewrite history! Please note that the contents of each set are almost entirely different from the others in the range. Contents (unpainted 54mm scale figures and accessories): The Allies: 32 C.
GI's (including 6 artillerymen, in olive green color) 30 Matchbox British Infantry (service brown color) 3 BMC Higgins Boat Landing Craft 1 Ideal Underwater Demolitions Team Boat with Mini-Submarine, Captain and 3 Frogmen 1 BMC Sherman Tank 2 BMC U. Flag, Flagpole and Base The Germans: 24 Airfix German Infantry and Elite Paratroops (gray color) 12 BMC German S.
Infantry (black color) 1 BMC German S. Mortar Team (black color) 1 BMC German S. Machine Gun Team (black color) Accessories: 1 Large M. Rock and Concrete Bunker (you can put figures inside) 16 sections Marx Barbed Wire Fencing 12 BMC Steel Beach Obstacles (Czech Hedgehogs) 12 BMC Sandbag Walls 4 Fencibles Small Concrete Bunkers (you can put figures inside) Reusable playset box Contents may vary.
The Toy Soldier Company, founded in 1985, has the world's most extensive stock of current and vintage plastic and metal toy soldiers and accessories by manufacturers including Britains Deetail, Timpo, Atlantic, Dulcop, Conte, Marx originals and recasts, Playmobil and others. Please message us if you have any concerns. We have a strict policy, in accordance with U. The item "WWII D-Day Playset #1 Hit the Beach 54mm Plastic Toy Soldiers" is in sale since Tuesday, September 7, 2021. This item is in the category "Toys & Hobbies\Toy Soldiers\1970-Now".
The seller is "toysoldierco" and is located in Jersey City, New Jersey. This item can be shipped worldwide.
Gender: Boys & Girls
Country/Region of Manufacture: United States
Material: Unpainted Plastic
Soldier Type: WWII Infantry and Accessories
Manufacturer: Marx Recasts, BMC, Matchbox
Size: 2-2.5 inches tall
Scale: 54mm
Type: Soldier
Period: WWII D-Day
Year: 2021
MPN: TSCPCS03-112m
Brand: Marx Recasts, BMC, Matchbox
Recommended Age Range: 7 years and up