Vintage Marx Super Circus Playset -tent, Sideshow Panels, 88 Total Pcs. As Found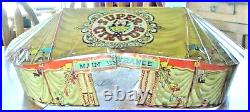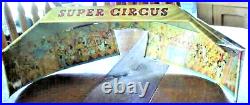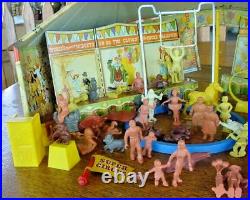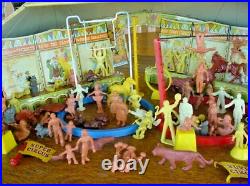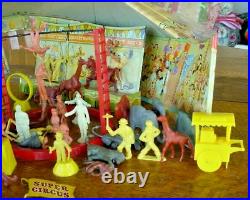 HERE IS THIS VINTAGE (1950`S ERA) MARX SUPER CIRCUS THAT HAS OVER 88 TOTAL PIECES. A THREE PIECE METAL TENT THAT HAS SOME OF IT`S TINY METAL HOOKS MISSING SO IT IS HELD TOGETHER BY SOME TAPE BUT I THINK IT COULD BE FIXED WITH A LITTLE TLC! THERE IS TWO SIDE SHOW PANELS PLUS MANY OTHER PIECES AND MOST ARE IN VERY GOOD / PRE-OWNED CONDITION.
THIS RARE MARX TOY CAME FROM AN ELDERLY COUPLE`S ESTATE SALE - AS FOUND.