Vintage Marx 1950's Toy Armor Set Complete, near mint and in original box- A++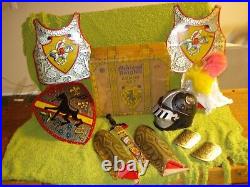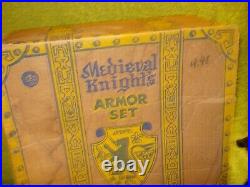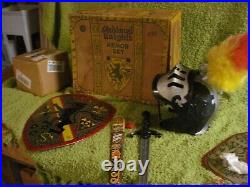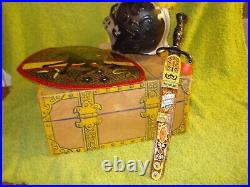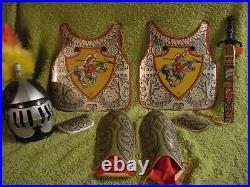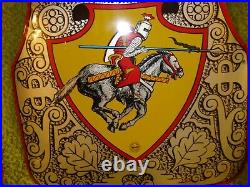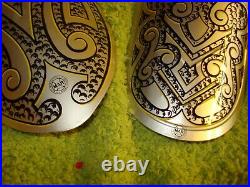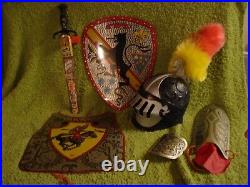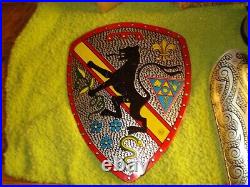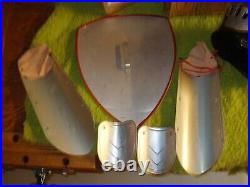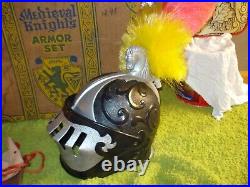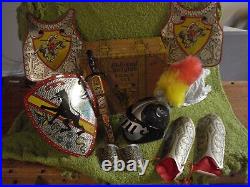 Here we have an extremely rare child's armor set from the 1950's, complete, added-to, and in unbelievable condition in original Marx box. The original Marx "Medieval Knight's Armor Set" comes in its original box which is in C-8 condition, containing Knight's shield, breastplate and backplate (ties attached), shoulder plates and greaves (armor for lower legs), ties attached and leather extensions to pull and tie over boots/shoes. The tin litho of this set (all parts are metal) is beautiful -- extremely colorful, detailed and highly evocative of the 50's romantic view of knighthood. It is also in amazing condition -- clear, shiny with no signs of rust or wear (other than a few tiny paint chips in the center area of the shield, almost unoticeable). Added to this set is a second set, consisting of a sword and scabbard (metal scabbard, plastic sword) and a plastic helmet belonging to the "black knight" There is no original box for these two pieces but both are by Marx from the 50's and they've been added to complete the knight's ensemble (you can't have a knight going into battle with out a sword or helmet).
The sword is completely sound, as original. It is appropriately labelled as belonging to "The Black Knight" There is a small spot of rust on one side of the scabbard (hard to spot because the litho is a brown color in that area) while the reverse side is perfect.
The helmet has been re-conditioned and re-painted to match the set. The plastic helmet had been cracked at some point as is frequently the case with this piece and this crack has been completely and soundly repaired and re-sealed. The black plastic helmet had originally been highlighted with factory spray paint in a copper color (don't know why because I've never seen Marx 50's armor in a copper color) but the copper color has been sprayed over with a silver color to absolutely match the silver color of the armor pieces. The resulting black and silver colored helmet is striking and a perfect match for the armor.
Finally, the helmet had been decorated with the head of a stallion, reminiscent of Prince Valiant's helmet. Again, you can't have a 50's era knight riding into battle without a helmet crest and plume. The result is a beautiful helmet which superbly complements the original set. The helmet is also functional, the visor raises and lowers (see one photo where the visor has been propped open).
This set, box and components, has been on display to complement a Marx 1950's castle and knights diorama, and looked super in that setup. This set is extremely rare, particularly in this striking condition, and in its original, beautifully lithographed box replicating a knight's storage chest. And you won't find a better example of superb Marx 50's tin litho than that representing the various pieces of armor and weaponry comprising this knight's equipment. This item is in the category "Toys & Hobbies\Vintage & Antique Toys\Play Sets". The seller is "jdb430" and is located in this country: CA.
This item can be shipped to Canada, United States.