Vintage 1963 MARX EUROPEAN WWII BATTLEGROUND PLAYSET with play mat, 560+ Pieces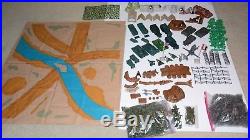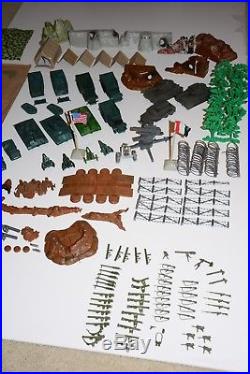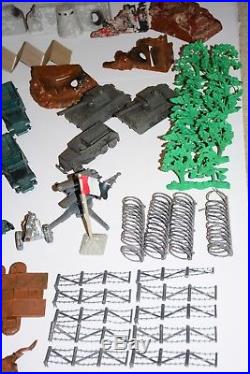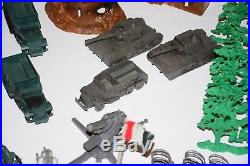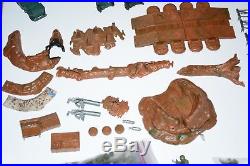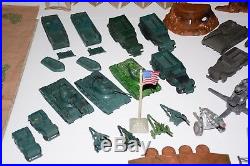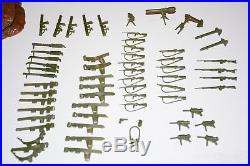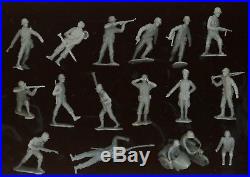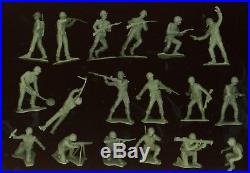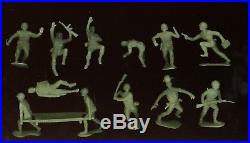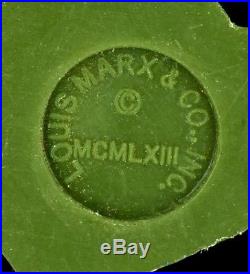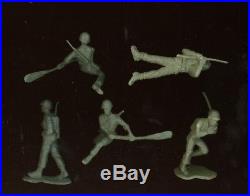 Vintage 1963 MARX EUROPEAN WWII BATTLEGROUND PLAYSET with play mat 560+ Pieces! Americans Vs Germans 54 mm figures, many with LOUIS MARX & CO.
I found this set stored at my late parents house I was 9 years old in 1963. NO original box or instructions. This set actually, it is likely more than one set - Over 560 pieces! Is well-used but most figures are in very good shape. It appears that the set is about 90% complete. There are scratches and/or tiny flecks of paint or glue on a few pieces. A few items have bent/broken/missing small parts: bayonets, grenades, tripods, etc. Entire set only for sale; as is. Total weight approximately 10 lbs. Plastic printed play mat is 36 X 42 (has 2-inch tear on one edge and numerous pin-holes). German (medium gray, with a few darker gray) soldiers. 1 Motorcycle driver with side car. 11 Dead/wounded (with heavy machine gun across them). 9 Leaning forward with machine pistol. 10 Running with MP 40/Schmeisser machine gun (on one foot). 1 Prone firing machine gunpart of original set?
13 firing MP 40/Schmeisser machine gun. 11 carrying heavy machine gun over shoulder. 9 Standing and firing rifle. 25 Kneeling and firing rifle.
Pieces that have the 1963 MARX & CO seal on their bases. American (all waxy green unless otherwise specified) soldiers. 1 Walking with slung rifle, with canteen.
7 Officer with pistol, waving. 4 Running with rifle, grenade on chest. 5 Running one foot off ground. 6 Running both feet on ground with rifle. 7 Throwing grenade rifle pointed straight down.
7 Kneeling with mortar shell. 6 Standing shooting Tommy gun at waist. 9 Kneeling shooting machinegun on tripod (2 are darker green). 9 Prone with rifle on biped(1 is darker green).
1 Running with walkie-talkie to ear. 2 On one knee with paddle(rowing raft, both paddles on left, darker green). 12 Seated Marine right hand forward (4 darker green). 1 prone with rifle (both darker green). 7 Blown up (1 missing base). 6 Carrying wounded man in fire carry. 7 Wounded man being fire carried. 7 Wounded man for stretcher. 7 Running with pistol and ammo can. 7 Crawling with Tommy gun.
Pieces that have the MARX & CO seal on their bases. (from sprue) waxy green weapons and accessories.
6 Machine gun with bipod (two have one leg broken). 1 Recoilless Rifle Tube and 2 Tripods. 2 German 351 tanks (gray). 3 American 41 tanks (one of them painted-over lighter green). 3 American half tracks (one with no wheels). 1 German personnel carrier(gray). 2 small rafts (set has 2 GIs with paddles, see above).
4 light green rows of 4 trees 2 have been cut in half as instructed, the other 2 were cut in 4ths (8 individual trees, with two trees missing) total of 14 trees. 1 13 X 19 sheet of plastic camouflage (2 ½ tear on one edge), NO poles. 1 Howitzer gun rough shape painted over and trails broken-off, (pull-back breech/spring still works, no projectiles). Landing craft, dark green (both with ramps broken-off, ones machine gun barrels are broken-off). 4 Field guns 2 dark green, 1 waxy green (and 1 dark green - with one wheel lost and chewed-up barrel).
Note: pieces noted as enhanced means they were given additional battle damage by burning holes in them. 1 pontoon bridge (2 pieces). 1 radio table (one missing leg and antenna gone). 1 small sand bag position(plus one more in bad condition). 1 Exploding machine gun nest (3 pieces) in excellent shape - trigger was missing I fabricated a replacement and now it works perfectly!
1 Ruined house (enhanced)(plus one other, badly enhanced). 1 German pill box(enhanced). 1 "U" shaped bunker (enhanced).
1 large rock (painted-over may not be part of original set). 2 Atlantic Walls(enhanced) (gray plastic). 2 firing machine guns (no tripods, one has no firing spring, no projectiles). 9 straight barbed wire fences.
1 tin German Flag and 1 tin 48-star American flag, both with poles and bases. 1 German 88 gun end of barrel/firing mechanism broken-off/gone, no projectiles.
1 exploding mountain light greenish plastic, spring/explosion works well. 1 Large wall tent and 5 pup tents all tan, no cots. I dont know the original kit #, and it is likely this is more than one set, given the large number of soldier figures. Planes, helicopters, parachutes/paratroopers, projectiles are in this collection.
The item "Vintage 1963 MARX EUROPEAN WWII BATTLEGROUND PLAYSET with play mat, 560+ Pieces" is in sale since Friday, April 20, 2018. This item is in the category "Toys & Hobbies\Toy Soldiers\Pre-1970". The seller is "bmuir935144" and is located in El Cajon, California. This item can be shipped to United States.
Brand: Marx
Year: 1963
Soldier Type: battleground
Type: ww2 army
Gender: Boys & Girls
Country/Region of Manufacture: United States
Material: Plastic