Marx Vintage Iwo Jima Battleground Playset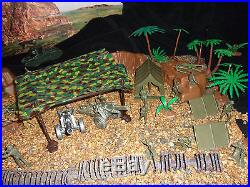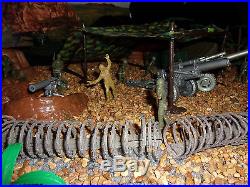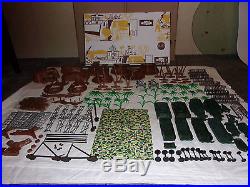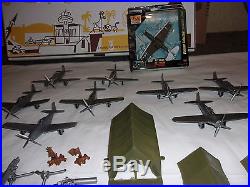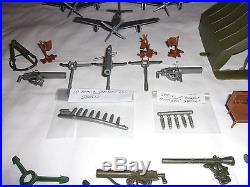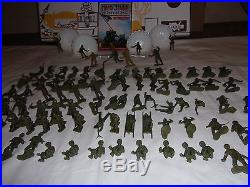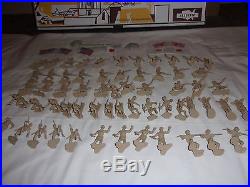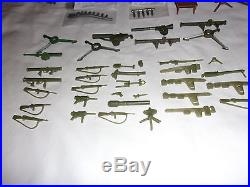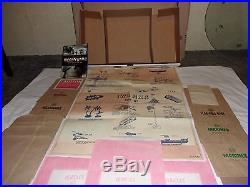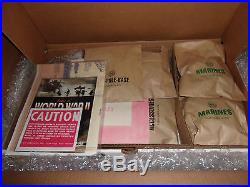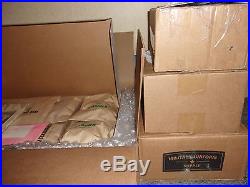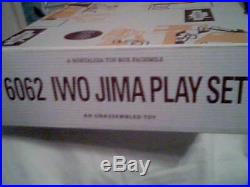 This listing is for a Vintage Marx 6062 Iwo Jima Playset with over 370 pieces including a Very Nice Sears Allstate Iwo Jima Playset reissue box with dividers, a complete, very nice copy set of Iwo Jima instruction sheets, 3 original Marx vehicle bags, several reissue labeled Marx bags, 2 other original bags, and several old type parts bags. Two complete sets of Marx Vintage Battlegroup Vehicles, each with tank, halftrack, landing craft, jeep, cannon, and small raft with 2 extra landing craft thrown in for Beach action!!! It also includes the Marx Shell Shooting 155 Artillery piece, with 5 cannon shells on sprue, 3-Marx Silver Shell Shooting Machine guns, w/tripods and 10 shells on sprue, a non-firing Marx Silver155 artillery piece, a green plastic air cooled machine gun w/ tripod, green plastic water cooled machine gun with tripod, 2- recoiless rifles with tripods, Marx Vintage 28-piece green matching weapons set, 3 piece Matching tent set, and mortar. 3- Marx Vintage P51 Airplanes, 2-P47 Marx Vintage Airplanes and 3- Marx Vintage Japanese Zero's, joined by a Mrc P39 Airplane, all with propellers!!! The set further contains Marx Vintage Camo Artillery Tent/Cover, with Complete Pole/Cross piece set, 5-Marx caps and 2-replacement caps.
Matching terrain pieces such as 3-bunkers, 2-destroyed houses , Rock formation with cave, Tall Mountain/Hill, Flat hill/dune terrain piece, 2-tank traps, Ustring-it, complete Pontoon Bridge (Mint condition) with "male tabs intact", Exploding Bunker (no mechanism), 2- machine gun bunkers, 2-sandbag bunkers, 4- matching landmines, 4- marker flags, 2- Marx flagpoles and bases, Super Generous Double Portion++Vintage Marx palm tree sets with ferns, (52 pieces).. Further, the set contains Vintage Marx fence including 10- barb wire, 10-concertina wire, 5-Mpc tall barb wire fence pieces, 2- medical boxes, and radio/no antenna, Very Nice- Marx Original Metal US 48 Star Flag, Japanese decal / tin flag and excellent Sticker/decal US, and 2 -Japanese Flags set. The compliment of Original Marx 60's Vintage matched Marines has 85 pieces, including 2- Medical teams, 4- stretcher bearers with 2- stretchers, and 2- laying wounded, 2- guys carrying another guy wounded sets, 8-sitting Marines, Raft rower, Special "Tan" Marx Marine Command set of 3 figures, and complete set of 4- Paratroopers with 4-excellent recast parachutes, and 2-(8 piece) sets of wires, while the Japanese have 64 soldiers in " Old flat tan" , Original Marx figures, all figures stamped and dating back to 63' all figures in Excellent condition.
1-Shell shooting machine gun glued to tripod, its sturdy and works great, a couple tent/cover cross piece eyelets reglued, a couple tiny holes in camo cover for tent poles, one paratrooper (gathering) is missing one ring, and one landing craft ramp door not attached, but there. This Original set is in Excellent Condition, no cracks in terrain pieces, no brittle figures or scuffed up pieces, no missing or broken turrets, no missing trailer hitches, no missing or worn wheels on vehicles, cannons or Airplanes!!! You could have 2 of the smaller sets with this one set!!!!! A VERY SPECIAL THANKS TO RICK EBER FOR HIS VALUABLE ASSISTANCE AND ADVICE IN PUTTING THIS VERY SPECIAL IWO JIMA PLAYSET TOGETHER!!! If You have questions, please ask.
Good Luck on this one, it's a nice set!!! The item "Marx Vintage Iwo Jima Battleground Playset" is in sale since Saturday, September 10, 2016. This item is in the category "Toys & Hobbies\Vintage & Antique Toys\Play Sets".
The seller is "blakstep-0" and is located in Hendersonville, North Carolina. This item can be shipped to United States.