Marx Vintage Iwo Jima Battleground Playset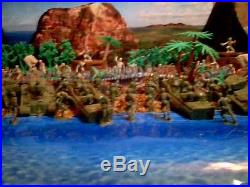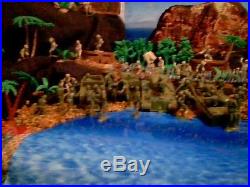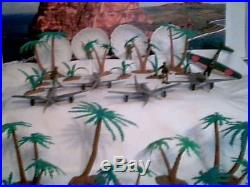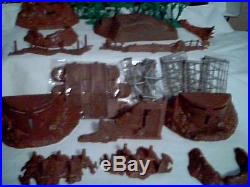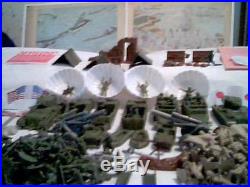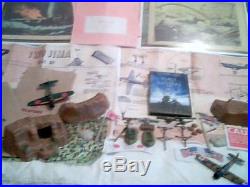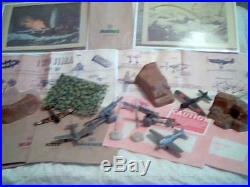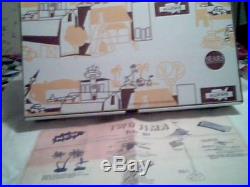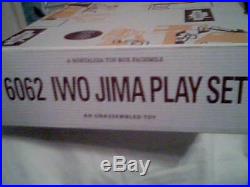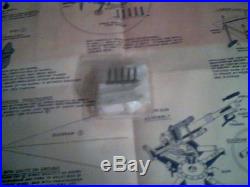 This listing is for a Vintage Marx Iwo Jima Playset with over 350 pieces including a Very Nice Sears Allstate Iwo Jima Playset 6062 reissue box, 3 original Marx vehicle bags, several reissue labeled Marx bags, (2) sets of Marx Vintage Battlegroup Vehicles, each with tank, halftrack, landing craft, jeep, cannon, and small raft with an extra Matching Landing craft, it also includes the Marx Shell Shooting 155 Artillery piece, Marx Silver Shell Shooting Machine gun w/tripod and 5 shells on sprue, a non-firing Marx Silver155 Artillery piece, a green plastic air cooled machine gun w/ tripod, green plastic water cooled machine gun with tripod, green plastic recoiless rifle with tripod, mortar, Marx Vintage P51 Airplane and Japanese Torpedo Plane joined by 2 other very nice reproduction Marx planes, 1-P51 and a Japanese Zero, all with propellers!!! The set further contains Marx Vintage Camo Artillery Tent/Cover, (no poles) with matching terrain pieces such as 3-bunkers, 2-destroyed houses , large Marx hill terrain piece, 2-tank traps, complete Pontoon Bridge (Mint condition) with "male tabs intact", 2- machine gun bunkers, 2-sandbag bunkers, matching landmines, small marker flag, flagpoles and bases, 4-2 tree rows (Genuine Marx), 2-Vintage Marx palm tree sets with ferns, (52 pieces), plus 1-reproduction Marx palm tree set with ferns and med. Further, the set contains Vintage Marx fence including 8- barb wire, 4- tall barb wire fencing, 8-concertina wire, all (Mint condition) and 2- medical boxes, radio/no antenna, Very Nice Marx Original Metal US 48 Star Flag, and excellent Sticker/decal US, and 2 -Japanese Flags set. The compliment of Original 60's Vintage matched Marines has 80 pieces, including 4 Paratroopers with Parachutes, Medical teams, 4- stretcher bearers with 2- stretchers, and 2- laying wounded, 2- guys carrying another guy wounded sets, 8-sitting Marines, while the Japanese have 66 soldiers in " Old flat tan" , Original Marx figures , all figures stamped and dating back to 63' all figures in Excellent condition. Shell shooting machine gun had mount reglued, its sturdy and works great, and one paratrooper gathering is missing one ring. This Original set is in Excellent Condition, no cracks in terrain pieces, no brittle figures or scuffed up pieces, no broken landing craft doors, no missing or broken turrets, no missing trailer hitches, no missing or worn wheels on vehicles, cannons or Airplanes!!! Many more photo's to come of contents, I'm hunting some additional pieces as well, and will attempt to show through photographs, any late arrival parts for this set. Also included a "scenery piece" painted Japanese plane. You could have 2 of the smaller sets with this one set!! If You have questions, please ask.
Good Luck on this one, it's a nice set!!! The item "Marx Vintage Iwo Jima Battleground Playset" is in sale since Sunday, August 07, 2016. This item is in the category "Toys & Hobbies\Vintage & Antique Toys\Play Sets". The seller is "blakstep-0" and is located in Hendersonville, North Carolina.
This item can be shipped to United States.