1967 Marx Daktari Jungle Play Set (90% complete) with original Box 3717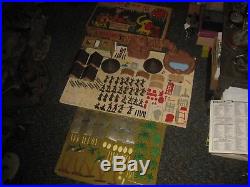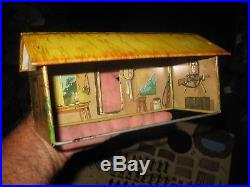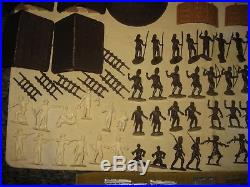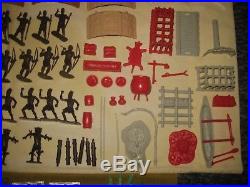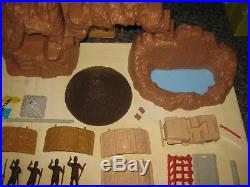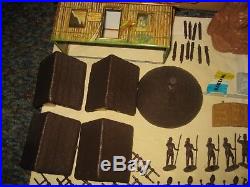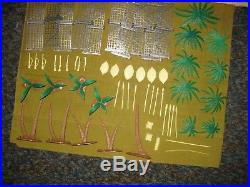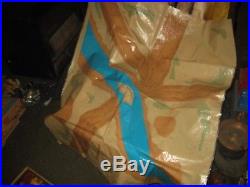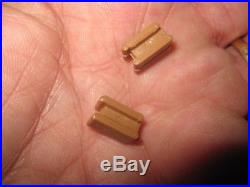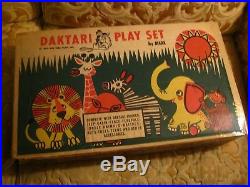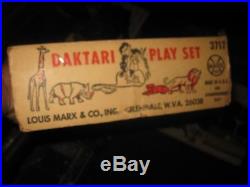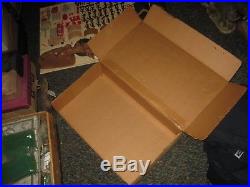 Vintage 1967 MARX Daktari Jungle Play set # 3717 with the original box. This was actually the smallest version of the set but the contents are about 90 % complete for the largest set # 3720 basing it on a checklist from the Plastic Figure & Play Set Collector magazine.
All that is really missing to make this a complete set are the animal figures which are often available from other sellers and the instruction sheet. Only damage/condition issues are the plastic play mat has a small tear about 1 inch and the flaps of the box have been taped on where they have come apart from age but still in very clean condition. Contents include and in accordance with checklist for a complete set: Plastic mat, tin litho trading post with metal support rod, tin litho Daktari flag with flag pole and base, 2 round huts with walls, 4 square huts with roofs, 6 ladders, 10 sections of barbed wire fence, 2 connecting clips (scarce) with 3 piece hard plastic mountain/cave/lake/rock arch set, 2 ferns with bases 3 leaf, 2 ferns with bases 4 leaf, 1 large palm tree with top, 2 medium double trunk palm trees, 2 small double trunk palm trees, 6 medium palm tree tops of 2 styles, 2 small palm tree tops of 2 styles, jeep, dead tiger, Hunters in waxy cream color: Jeep Driver, Paula, Daktari doctor, 2 hunters posed for holding accessory rifle, lost hunter, 3 hunters shooting rifle, generic Jungle Jim figure with the plug, generic Kolu figure with the plug (plugs were used to cover up the names of these 2 character figures from earlier Jungle Jim play sets), Natives: 2 drummers, 2 guards with rifles, 2 witchdoctors, 4 crouched with arms at sides, 4 throwing spear, 4 with necklace throwing spear, 4 bowmen, 4 bundle carriers with staffs, Hard Plastic accessories: 2 carry poles, 2 machetes, 3 piece snare trap, 3 legged cooking pot, camp fire, 2 oars, long bundle, 2 short bundles, dugout canoe with outrigger, torture stake, slotted cage bottom, cage top with clips, small cage trap, spiked trap, forked trap stick, baited trap stick, animal skin, trough, 2 jars, short drum, tall drum, and 3 different food plates, Soft Plastic accessories: 2 large shields straight center line, 2 large shields wavy center line, 2 small shields wavy center line, 2 square bundles to fit heads of bearers, 1 long drum, 2 carry poles, 4 long spears, 4 short spears, 4 barbed spears, 3 short rifles, 3 long rifles, 3 rifles with slings. I realize you may have questions especially as I was limited on photos for details.
I will be happy to answer any as quickly as possible but I do work full time and may take a day to respond. I have inspected the pieces and other than condition issues noted have not found any significant defects. There are no broken pegs inside holes of huts, etc. This is a great opportunity to complete a play set with little effort. The item "1967 Marx Daktari Jungle Play Set (90% complete) with original Box 3717" is in sale since Sunday, October 01, 2017.
This item is in the category "Toys & Hobbies\Vintage & Antique Toys\Play Sets". The seller is "junglejim" and is located in Potomac, Illinois. This item can be shipped to United States.
Brand: Marx
Year: 1967
Material: Plastic
Country/Region of Manufacture: United States